Winter 2015
What Must We Think About When We Think About Politics?
Man is a political animal, but he is much more.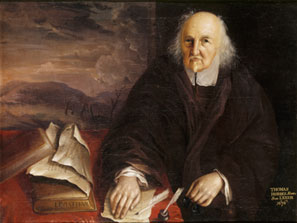 NATIONAL TRUST PHOTO LIBRARY/ART RESOURCE, NY
A headless body in a topless bar would not have surprised political philosopher Thomas Hobbes.
The late political scientist James Q. Wilson used to caution, with his elegant precision, that it's not enough to have political opinions. You also need facts—which, for him and his brilliant colleagues at The Public Interest of the 1960s and 1970s, meant data. You think this policy will produce that outcome? Okay, try it—and then measure what happens. Did you reduce poverty? Raise test scores? And you had also better comb the data for consequences you neither expected nor intended, for all policies must stand or fall by the totality of their results. Remember, too, Wilson and his colleagues used to insist, that correlation is not causation: if two things alter more or less in tandem, that doesn't by itself prove that one of the changes produced the other. They may be independent of each other, or some as-yet-unnoticed third force may have sparked both of them. Data don't speak for themselves but require interpretation—which may or may not be correct. It's art, not science.
This warning proved a powerful corrective to the liberal ideology about social policy that reigned in the 1960s—pious, unproved platitudes about "root causes" that gave birth to the War on Poverty, whose dire consequences, including an ever-more-deeply entrenched underclass, still bedevil America. But Wilson's rigor tones up only one of the areas where political thought and discourse tend to be flabby. At least two more elements, well known to political philosophers since antiquity but often ignored today, are essential to intelligent political thinking. You have to have some understanding of psychology—of the minds and hearts that motivate the individuals who are the stuff of politics—and you have to know something about culture, the thick web of beliefs and customs that shape individuals and their social world at least as much as public policies do. Continue reading →